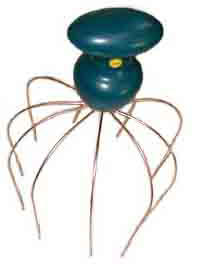 Imagine 10 long fingernails gently melting your stress. Now add batteries for the most exhilarating, thrilling, intoxicating, electrifying, rejuvenating, unforgettable HEAD MASSAGE ever!
90% of all illnesses are stress related. We guarantee instant stress relief and happiness or your money back.
This handheld treasure gently stimulates millions of nerve endings on the scalp as well as acupressure points that creates goose bumps from head to toe. The Stress Reaper is a motorized massager with copper fingers. You can turn the motor on for a thrilling sensation or use without the motor for a more gentle massage.
Two AA Batteries Are Included.

Only $19.99
Shipping is $12.00 (3 day Priority Mail)
IN STOCK and can ship today
* The Stress Reaper is similar design to the Sqwiggler, but offered at better price.